Moving Your Pets to Philadelphia: Tips to Make the Move Easy for Your Furry Friends
For most Americans, the dog days of summer typically mean a spike in moving dates. Perhaps it's the school break, longer days, or the ability to take vacation days after the move. Whatever the reason, moving day can be a stressful day for everyone. In the midst of packing boxes, mountains of bubble wrap, and getting things prepped for the movers, sometimes humans forget that moving is stressful for pets, too.
To ease the stress of moving for humans and pets alike, we have partnered with the Pennsylvania SPCA (PSPCA) and City Center Veterinary Hospital to create a guide to help you safely move with your pets.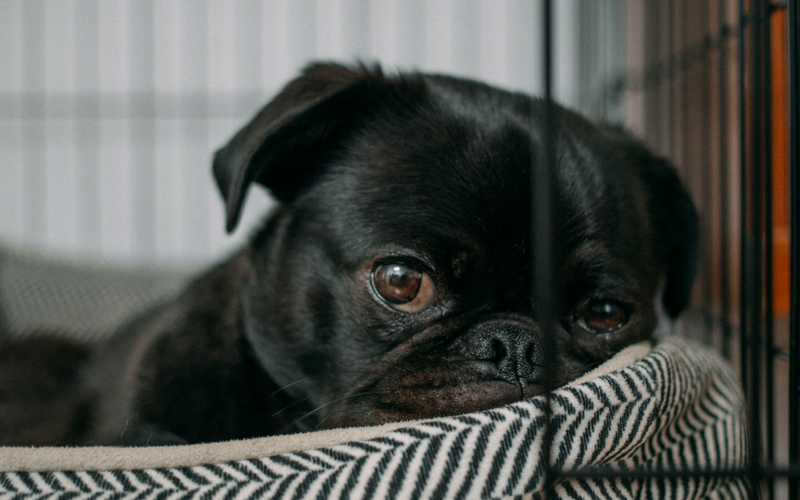 Box Your Kitchen and Crate Your Pets
During the process of moving, doors are often propped open so boxes and furniture can have a smoother transition from home to moving truck and vice versa. If you have an anxiety-prone or excitable pet, they could run away to try and escape from the noise and chaos.
As much as you may want to let your pets roam around on moving day, it is better for their health and safety if you crate them or put them in a spare room with a door they can't open. Be sure to give them treats and provide water and familiar toys or blankets. Having scents they recognize and being rewarded can go a long way in easing their stress and letting them know the move is a good thing!
Once you have a spot for your pet, let every human know their location. This will help prevent situations where someone accidentally hits a crate or opens the door to a potential escapee. Movers can then alert you when all other rooms are packed and they are ready to work on your fur-baby's room.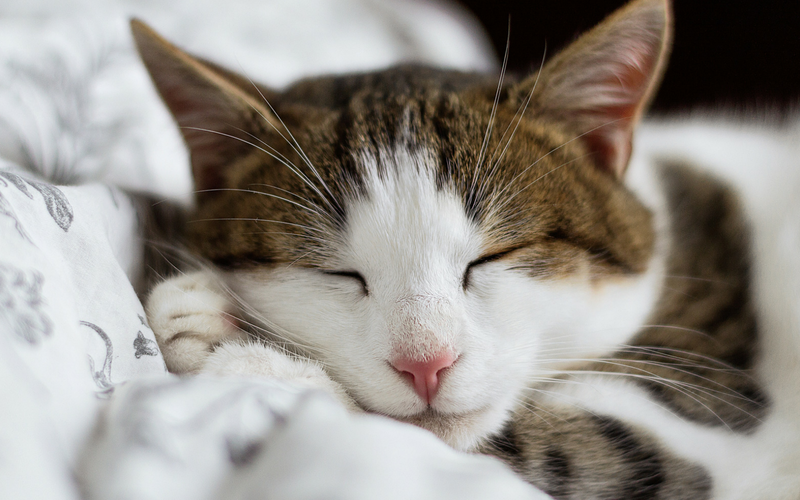 Out with the Old (or Not)
Speaking of familiar toys, one of the common things that people do when moving is get rid of older items they don't intend to keep post-move. Although this is probably a good thing for that set of golf clubs you bought to impress your boss, it's a better idea to keep at least some of your pets beds, blankets, and toys.
Pets react to familiar smells. If you replace all their toys, they are likely to try and find a familiar scent. Sometimes that means the pet will escape to find the old smell, create new pee spots in the home, or exhibit health issues from anxiety. The best way to prevent this is to move with the former things, then slowly replace each of them one by one as you see fit.
Dealing with Anxiety
"Anxiety usually comes because they are adjusting to a lot of new things at once," says PSPCA Director of Lifesaving Deanne Schmidt. "The best thing you can do to ease the transition for dogs especially is to provide them with things they know and stick to a routine."
That means you should try to stick to the regular schedule your pet had before the move as much as possible. If you woke up at 6 a.m. to get ready for work and took your pup out first thing, then continue to do that. If you came home for lunch or had a walker come to take your fur-baby for a waltz around the block at a specific time, then make sure to walk your pet around the same time during your move.
Once you do move in, you can help your pets get adjusted to the new environment by letting them get used to it one room at a time. Keep your dogs on a leash inside the house and take them from room to room, letting them get a good sniff around every nook and cranny until they are ready to move to the next room.
Cats can be placed in a room that they would be most comfortable residing in for a few days. Make sure that the litter box, food dish, and water bowl are all in the room with them. Once they seem comfortable with that room, start expanding the square footage they can roam a little bit each day until every room they are allowed in has been opened to them.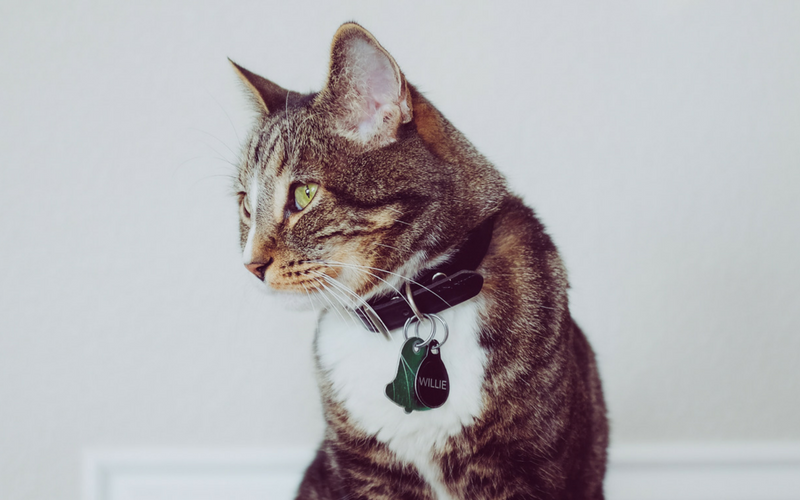 Be Prepared
The best way to help your pet during a move is to start preparing before you even break out the cardboard boxes. Start talking to your current vet about ways to help your pet cope with the stress, prepare a room for them to hang out in, and find and connect with local shelters and Facebook lost pet groups.
If you are moving to a new city, buy updated tags with the new address information and update their microchips before you move. "The best and fastest way to find you is to link a microchip," says Dr. Meghan Gallagher with City Center Veterinary Hospital. "Don't hesitate to get, test, and update the microchip." Additionally, you should research vets, shelters, and lost pet groups in your new city as well as along the route you are taking. This allows for you to know exactly who to call if the worst happens.
If you are moving long distance, you should plan stops along the path to let the dogs out to play. Websites like BringFido offer ways for you to find local dog parks or quick walking paths so that you can plan your pit stops around your normally scheduled walk and bathroom times. Buy safety harnesses, beds, or carriers specifically designed for car rides.
You can also start taking your pet for car rides to help them feel more comfortable, especially if they have never taken car rides before. If your pet is prone to motion sickness, make sure that they don't eat a big meal before the trip. Small meals throughout the day may be better and help with nausea.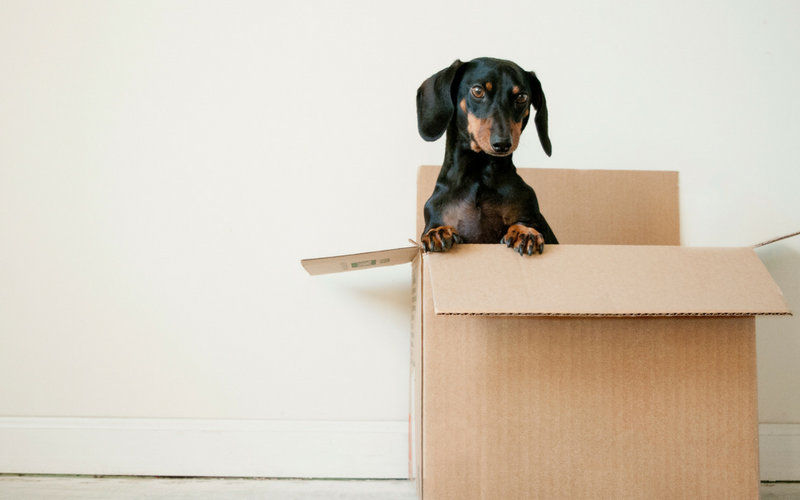 Top Tips for Success
Pet-proofing your house before you open the door to them is a vital step according to City Center Vets. "The number one tip is to make sure wherever you are moving to is safe and ready for your pet," says Dr. Gallagher. "One of the biggest issues we see is a dog accidentally eating mouse or rat poison. Another issue is to make sure that stairs are monitored or blocked off if your pet has arthritis." Checking places like basements and the fence line can go a long way in making sure your pet doesn't come in contact with something they shouldn't be around.
The PSPCA's number one tip is to make sure your pet's information is updated as soon as possible. "So many pets come in with incorrect phone numbers and addresses," says Schmidt. "We have no way of getting in contact with the owner, which can be heartbreaking for both the pet and the owner."
Ease Stress for Everyone
One of the best ways you can help your pet in the move is to hire a reputable moving company to help you. This allows you to be aware of your pet and help them if they start to feel anxious, further cutting down the chances of them running away. The best part is that a great moving company can help decrease stress for everyone in your family.
EverSafe Moving is a fully licensed and insured moving company prepared to make your move as low-key and efficient as possible. We also have a Price Lock Guarantee, meaning we guarantee our estimates within 10 percent of the quoted price! Your family and pets deserve the best, so hire the best movers in the Philadelphia area. Contact us today to get your free estimate.