Storage Services
Quick Read
Do you require short-term or long-term storage solutions? At EverSafe Moving Co. we have been helping customers move and store their belongings since 2011 by:
Helping Businesses of Any Size
Offering Storage Solutions In-Between Move-In & Move-Out Dates
Storing Furniture, Fixtures & Other Equipment in Our Climate-Controlled Storage
Helping Those Who Are Looking to Downsize and Need Extra Space
Whether it's for a short period of time, or your items need to stay longer than 6 months, EverSafe Moving Co. is the best choice to store your items because:
We Are a Fully-Licensed & Insured Company
We Have a Price Lock Guarantee
We Won't Charge Hidden Fees
We Can Show You Our Most Recent References
We Use Proper Moving Techniques & Equipment
If you'd like to store your items with EverSafe, give us a call at (215) 821-8547 or fill out our free quote form here.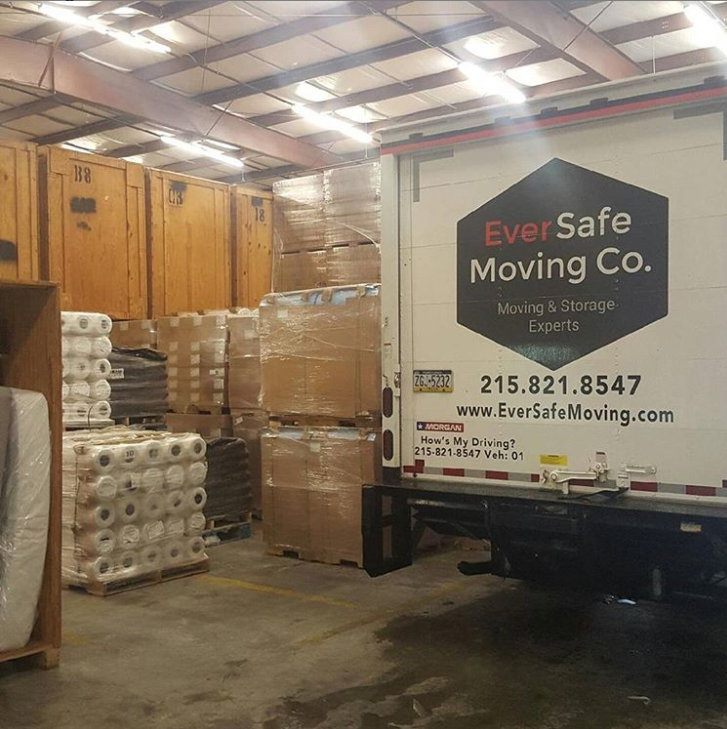 Are you looking for warehouse storage in Philadelphia, PA? EverSafe Moving Co. has a climate-controlled warehouse for all your short- and long-term storage needs.
Whether you're packing up an entire household or just need to clear out your basement, we can help. EverSafe will keep your belongings safe in our custody. And better yet, our experienced movers can do all the work for you.
When you need full-service storage solutions in the Philadelphia area, turn to the experts at EverSafe. We have been in business since 2011 and have gained a good reputation by providing quality service to our clients.
Storage for Rent
Storing items in a warehouse is different than renting a self-storage unit or storage pod secured with a combination lock. When you store items in our warehouse, your belongings will be packed into 5-foot-by-7-foot storage vaults, sealed, stacked and stowed away for safekeeping.
Rest easy knowing your valuables are safe. When we store your possessions, your furniture stays wrapped with quilted furniture blankets for maximum protection.
Call the warehousing experts at EverSafe Moving Co. to learn more about how we can help:
Small businesses with storage needs: When you're launching a business, you may need to invest in a product to build up supply ahead of demand. Our warehouse is the wise commercial storage solution. You won't have to worry about the product getting damaged or taking up valuable space at your home or office.
When there's a gap between your move-out and move-in dates: When you're going to be between homes for any length of time, put as much of your stuff in storage as you can. This will save you the hassle of having to haul it with you from any short-term rental home. You may want to finish renovations or just get a feel for your new home before filling it with every item you own. Meanwhile, your treasured possessions will be safe with EverSafe.
With FF&E: Store the Furniture Fixtures and & Equipment you aren't currently using in our climate-controlled storage.
When you're downsizing: Selling your family home and downsizing is rife with stress. Recently, we helped one couple downsize from 3000-plus square feet to 1500 square feet. The rest went into EverSafe storage.
EverSafe Moving Co. delivers moving boxes. If you need boxes to pack your items prior to moving them into a storage unit, let us save you a trip. We will bring them to your doorstep.
Warehouse Storage in Philadelphia
When you call EverSafe to rent warehouse storage facilities, we will work with you to understand your needs and provide you a service that will fit your requirements.
You can bring your storage items to our warehouse yourself, or you can hire our professional movers to come to you. We can pick up your items, wrap them securely and transport them to our facility.
After receiving your items, EverSafe will pack them expertly and safely into a storage vault. Because we are professional packers, we will maximize the use of space, saving you money.
You will receive an itemized inventory of the items.
The wooden storage vault will be labeled for tracking and then stacked with other crates in our secure location until you call for it.
When you're ready to move out of storage, our crew will load your items into your vehicle. Or you can hire EverSafe's professional moving crew to deliver the items to your home or business.
How To Calculate Warehouse Storage Costs
EverSafe Moving Co. provides economical storage solutions for long- and short-term storage.
Here's how our pricing is calculated:
Storage: Starts at $80 per month for one 5-by-7-foot storage vault.
Access fee: This fee is charged if you need to access your vaults in our warehouse or arrange to have another company pick up your items from our location. The access fee is equal to one month's storage or $250, whichever is less.
A five-by-seven-foot storage vault is great for storing boxes, small furniture or mattresses. The crate is about the size of a large closet.
You can rent as many storage vaults as you need.
Get A Free Warehouse Storage Quote From EverSafe Today
Whatever your warehouse needs, EverSafe has space for you. Call us today at (215) 821-8547 or fill out the contact us form on this page to discuss your storage needs and get a price quote.