The Best Philadelphia Neighborhoods to Live In: Spotlight on Rittenhouse Square
New York has the Upper East Side; Chicago the Gold Coast; Boston the Back Bay; and Philadelphia proudly boasts Rittenhouse Square. Rittenhouse Square has offered the epitome of class and elegance since the mid-19th century, and this continued in the 20th century with the addition of luxury high-rise apartment buildings which now ring the square. It's the city's liveliest public square surrounded by upscale shopping and restaurants ranging from simple to over the top.
Rittenhouse Square, also known as Rittenhouse in Center City, is both a public park and the neighborhood that surrounds it. Its boundaries are 22nd Street to the West, Broad Street to the East, Market Street to the North and South Street to the South. Known simply as "the Square," the park is considered by many as one of the finest urban public spaces in the United States.
A Brief History of Rittenhouse
Originally called Southwest Square, Rittenhouse Square is one of the five original public parks planned by William Penn and his surveyor Thomas Holme in 1683. The Rittenhouse Square neighborhood, along with Fitler Square, make up the Rittenhouse Fitler Historic District.
As Philadelphia grew from the Delaware River to the Schuylkill River in the early nineteenth century, Rittenhouse Square became a highly desirable address. In 1840, James Harper, a manufacturer, merchant, and former Congressman, became the first person to build on the square. His stately townhouse set the tone for future residences.
Over the next half-century, the neighborhood became home to many wealthy families including a railroad tycoon, a real estate mogul, a department store founder, and many other affluent residents. Elegant architecture including churches and clubs were built, and the neighborhood was recognized as home to Philadelphia's "Victorian aristocracy."
Some Victorian mansions from that period still survive on the streets facing the square, but most of them have been replaced with high-rise apartments. Still, the neighborhood remains among the highest-income urban neighborhoods in the country.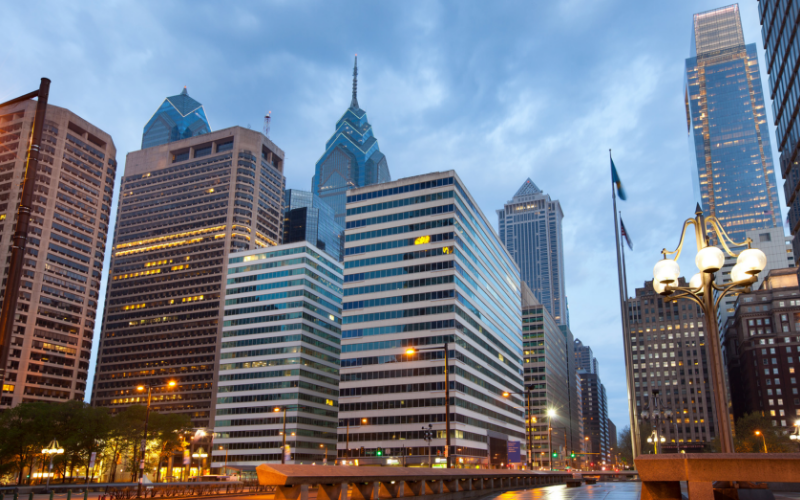 Activities and Sightseeing
Called Center City's outdoor living room, Rittenhouse Square offers some of the city's swankiest mansions, along with first-class hotels, luxury high-rise apartments, fine dining, and high-end retail shopping – all within a short walk of the tree-lined park that anchors it all. Friends of Rittenhouse Square, a public-private partnership with Philadelphia Parks & Recreation, ensures that "the Square" remains the focal point of many neighborhood activities. The Rittenhouse Square Fine Art Show, one of many bazaars held in the park, has been run by artists since 1928. During the holidays, you'll want to make sure to see the Christmas lights and tree lighting in the park.
While some historic buildings remain in Rittenhouse Square today, many of the old brownstones have been replaced by an eclectic mix of retail shopping, but there is much more to do in the neighborhood than shop. You can explore the medically-interesting Mütter Museum or enjoy a performance at the Kimmel Center for the Performing Arts or a concert at the Curtis Institute of Music. Want to experience mosaic folk art? Philadelphia's Magic Gardens is a gallery spread over three city blocks on South Street. Maybe you just want to see "Philly from the top" high up on the One Liberty Observation Deck.
Places to Eat and Drink
Whether you're looking for burgers, bulgogi, a bistro, or brunch, Rittenhouse has it all. Check out these local eateries for the best in "must try" and casual dining options.
On the "must try" list, you'll find a variety of one-of-a-kind restaurants. Vernick Food & Drink is often called Philadelphia's best restaurant, and we don't disagree. The chef and owner, Greg Vernick, created the restaurant to feature an "honest, no-fuss menu" of American cuisine. Another fan favorite, Parc, is described as "fancy but approachable; expensive but not murderously so." Get your taste of French cuisine for any meal of the day (or have it delivered to your Rittenhouse home with GrubHub, Uber Eats, or Caviar).
If you're craving sushi, we recommend Zama, the pride of chef Hiroyuki "Zama" Tanaka. It offers a modern version of sushi and Japanese cuisine that will keep you coming back for more. Village Whiskey offers the Whiskey King burger at $26 and is a favorite of huge crowds in the neighborhood. Topping off the list is a place simply called a.bar. This bar in the middle of Rittenhouse offers strong drinks and an eclectic menu, plus you'll likely to see some famous Philadelphians if you stop in.
On the top of the casual dining list, you would find these favorites. Whether you're vegan or daring to try vegan cuisine for the first time, HipCityVeg is the place for you. It defines Philly-style fast casual with counter service and long lines, but it's worth the wait. Rather have meat? Honey's Sit 'N Eat is the philosophic and culinary opposite of HipCityVeg with daily dine-in specials like BBQ ribs and roasted chicken.
Tame your hummus craving at Dizengoff where the menu offers exclusively hummus and oven-fresh pita with an ever-changing slate of seasonal toppings. Brunch fans rejoice at Rooster Soup Co. where brunch is offered all day long and on the weekends. This restaurant is best described as a blend of Southern, Jewish, and diner.
Shopping & Entertainment
The variety of shops in this neighborhood is extensive. It's a sight you'll only believe with your own eyes. Omoi Zakka is a tiny specialty shop where you'll find items that speak to your creative side – including Washi tape, cards, Traveler notebooks, and more. Fitness enthusiasts will enjoy shopping at Breakaway Bikes. It's the perfect spot to bike shop whether you're a beginner or an experienced cyclist.
Planning a happy hour? Stop by DiBruno Brothers where you can shop a large selection of cheese, meats, and seafood. Pop into the coffee bar and café for an extra jolt of energy on your way.
Of course, there are plenty of clothing stores as well. Joan Shepp, a luxury shopping experience, is Philadelphia's destination for women's designer clothing. And you can't forget about Anthropologie, a Philadelphia-based company whose flagship store is in a four-story mansion topped with a stained-glass dome on Rittenhouse Row. UBIQ isn't just a sneaker boutique anymore, it's also the place for unique casual clothes and shoes. Of course, there's also Boyds, a landmark in men's fashion since 1938, where you can find luxury designer clothes with contemporary women's and men's apparel, shoes, and accessories.
Musical entertainment and nightlife are prevalent in Rittenhouse Square. The Philadelphia Orchestra and Philadelphia Chamber Music Society both have concert venues in the neighborhood. You can go to Byblos for happy hour specials and stay for the DJ spinning world, hip-hop, Middle Eastern, and house beats all night long.  A neighborhood favorite is the Raven Lounge, which boasts comedy and music acts from around the country and hosts an open mic night every week. The Vesper Sporting Club is where you can add partying to the game atmosphere. This spot is a hybrid of a dance club and sports bar, with dance floors and more than forty 4K screens playing the games of the night. For a completely different vibe, check out the PFS Roxy Theater. The Philadelphia Film Society operates the Roxy as a first-run theater screening a mix of independent, mainstream, and international films.
Where to Live
Rittenhouse Square apartments receive high ratings from their residents. Here is a glimpse of some of the finer options and descriptions from the properties' websites. The Pepper Building enjoys the tranquility of its sought-after neighborhood while still being steps away from the bustle of Center City. 1919 Market Street has new rental apartments with contemporary finishes and features including open kitchens and stainless steel appliances. If you want to be closer to the art scene, Griffin City Center has masterfully renovated apartments located along the Avenue of the Arts. Stay close to everything at The Beacon, where resort-like community amenities and spacious living spaces are combined with a Rittenhouse Square location that puts you in the center of Philadelphia's dining, shopping, and public transportation hub.
Is Rittenhouse Square the Neighborhood for You?
There are plenty of choices when moving to Philadelphia, but few can compare with this vibrant, convenient, upscale neighborhood in the Center City. Few can match its prestige and solitude of living with arts, culture, and gorgeous green space. It's simply urban elegance surrounding a historic and charming park.
You can remove the hassle of moving to the Philadelphia area regardless of which location you choose by hiring EverSafe to get you there. You can trust us to get the job done professionally and without damages. Our Price Lock Guarantee means you won't be surprised by extra fees, plus we're fully licensed and insured. If you're ready to take the next step, contact us to learn more and schedule your move.